Description
Your individual ritual: A practice that connects you with yourself every day and lets you go through your daily life with more mindfulness and self-love. Work 1:1 with Jessy and let the coaching conversations create a valuable ritual for you that may or may not include the following elements:
> Yoga Asana (physical exercises)
> Personality development
> Breathing techniques
> Fitness, dance and/or somatic techniques
> spiritual practices
> Ayurvedic approaches
> Tools from the TCM
> Meditations and much more.
Depending on what your nervous system, physical body, thoughts and current life situation require.
FOR YOU, if you:
Want to change something

You need a reliable anchor

Find a practice that fits your

body, your feelings, habits 

& fits your life

often carry the feeling of distraction, stress and tension within you

Longing for more mindfulness & self-love in your everyday life
This program is suitable for all levels: absolute beginners in yoga, regular practitioners and also for yoga teachers.
Important to know: Of course, you decide whether your ritual contains yoga asana at all, whether it should be more activating or calming, and we examine exactly whether this is really the right thing for you. ♥
INCLUSIVE
PREVIEW: We see if the chemistry is right and discuss the dates for our meetings (by phone or email).

♥ 

TWO SESSIONS á approx. 45-60 minutes, which take place 1:1 via Zoom: These include questions about your life, your well-being on all levels and right away direct mindfulness practices. Here we find out exactly what you need for your body, your thoughts and an everyday life and what your life issues are. It may not be what you think.
YOUR RITUALBased on the 2 sessions I create a very indivduelles ritual for you, which you will receive in a video and its mode of action will be explained.
RECORDS from the exercises in the two sessions & from your ritual
PDF with
ayurvedic tips for your diet type and everyday life
an individual affirmation page to print out
Healings: concrete practices that can still support you beyond the ritual
Valuable exercises for in between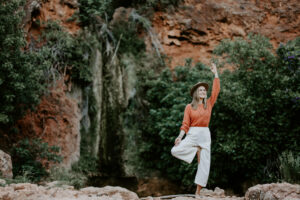 YOUR PASSIONATE YOGA TEACHER & GUIDE
Soulguided ~ Heartcentered ~ passionate about humans
Trained in:
Hatha | YIN | Yoga-Nidra (deep relaxation)

Meditation | Cacao Ceremonies | Mantra

Specializing in Self-Care based Yoga &. 

Personality development

500h RYT+ training and IYI certified instructor for advanced 300h trainings.

Further training in Ayurveda, Trauma-sensitive 

Yoga, Shamanism, Yoga Philosophy

(Vedanta), yoga therapy, meridian teaching,

Pranayama & Breathwork, Meditation
READY TO GROW?
A gift to yourself ~ no more excuses!
Tell me:
Why do you want to get on the mat?
Why do you need a Rutial in your life? 
Together we will create YOUR powerful & effective WHY create. An unwavering intention.
---
TESTIMONIAL
Ronja P. mom of 2 from Austria says about her ritual:
"Jessy has the gift of (knowing) the person inside in just a few conversations. The ritual is a Incredibly strengthening anchor in everyday lifewhere it is possible for me to be in a realistic everyday framework, to connect with me in a special way.
It is an arrival in the day, in the present, in me, my body and in my personal topics - and time and time again, getting ahead.
The ritual works grounding on me and strengthens my connection with the greater whole. Furthermore, it is an act of Cleaning, of the Charging and the Reflectionwhich has made me look at my individual growth daily nourishes. I am so grateful to her from the bottom of my heart."
---
Give THE RITUAL as a gift? 💝
Simply enter "voucher" and the first name of the person receiving the gift when making your booking and you will receive a beautifully designed voucher to print out within a maximum of 48 hours.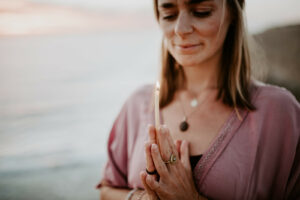 ---
If you feel the call for yourself or a loved one, book one of the limited spots now and register today for the one-time price of 2022 🙏🏻.
Thank you for your trust, thank you for your personal growth, thank you for your beautiful heart and courage to connect with your body & inner world! Thank you for your glow.
With love,
your Jessy
Do you have any questions? Feel free to contact us here