Description
Give yourself a very special Sunday characterized by self-care ~ movement ~ introspection and joie de vivre. I invite you from the heart to the perfect start to the day at my place of power in Murnau am Staffelsee.
CURRENT
09:00 holistic yoga practice (suitable for all levels, 90 min. incl. extensive final relaxation with sound & essential oils)
afterwards BRUNCH at the nearby Café Florentina (5 min. walk from the yoga studio)
from 12:00 pm walk together to the lake & to 2 of my secret favorite places, where a surprise is waiting for you
Meeting point is at 9:00 am at the yoga studio in the middle of the magical Murnau pedestrian zone.
INCLUDED IN THE TICKET
HOLISTIC YOGA PRACTICE
BRUNCH vegetarian & vegan: From the classics, to pancakes, bowls, spreads, everything your heart desires (excl. drinks).
PROGRAM AT STAFFELSEE with walk & a surprise
Address yoga studio: Yoga & Movement - Rooms of alternative practitioner Elisa Grasegger, Untermarkt 3, 82418 Murnau am Staffelsee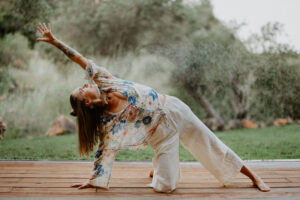 ---
HOW TO FIND US: Take the train from Munich to Murnau am Staffelsee. Walking distance from the train station to the yoga studio is 12 minutes.
PARKING: There are two large parking lots in Utzschneiderstraße and Bahnhofstraße 10, where you should easily find a spot on Sunday morning.
Please be there on time at 9:00 ~ thank you so much, i gfai mi so auf di!
Do you have any questions? Write me a message: jessy@inti-yoga.de
---
Would you like to give away a YOGA BRUNCH on 07/31 or 08/28?
Our beautiful vouchers are limited available. For this, please send me your address, name of the person receiving the gift & the number of vouchers by mail: jessy@inti-yoga.de